In detail.......
A teakwooden house lasts more than an human lifetime, and the value increases year after year! It's a stable and durable investment.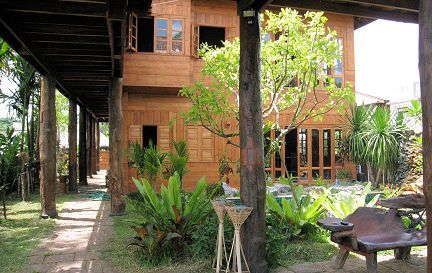 Because of its golden brown color the world-famous Thai Teakwood is locally called "Mai Sak Tong", latin name "Tectona Grandis". It is the most pest resistant of hardwoods and one of the world's most valuable timbers, recognized for robustness and firmness. It can withstand all types of weather.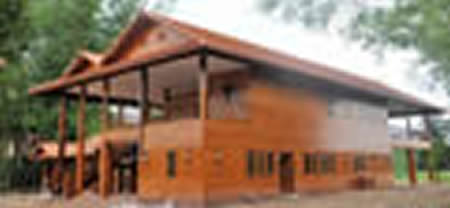 All ThaiLanna Home houses are traditionally hand-made.

Inner- and outerwalls, doors and windows, are made of 100% old Golden Teakwood. Teak by nature is resistant to fungi, rot and termites, this because of the oil inside the wood.
Since early 1989 the use of teakwood is restricted in Thailand in order to restore the teakwood forests. All wood used for ThaiLanna Home houses is certified by the Royal Forest Department of Thailand, stating that the wood of your house has been obtained through legal ways from private plantations.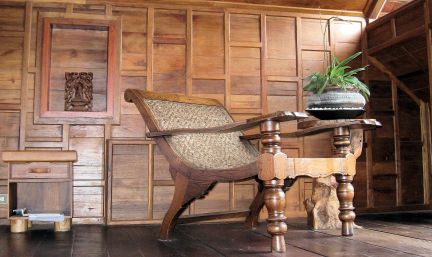 Floors and carrying beams of the structure are made of mixed recycled and/or new tropical hardwoods.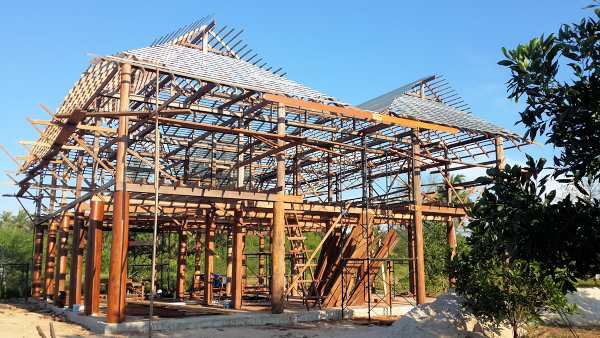 Tropical hardwood is perfect for the structure but not advisable for the walls because the planks for walls is thinner than beams and therefor will in time crack under influence of the weather. That's why we use for all walls, windows and doors genuine golden teak.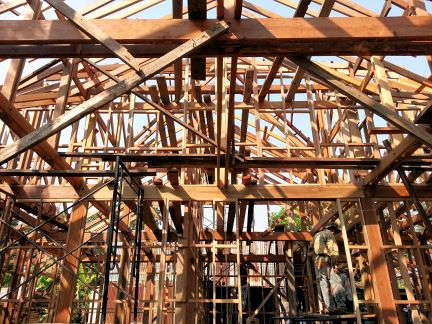 Roof topping options.
Some 70% of the houses we build have "Ayara" rooftopping. They are durable, strong (load of up to 180 kg/cm2), impermeable, leak-proof.
Made of SCG portland cement mixed with synthetyc fiber and are asbestos-free.
Click

to download a brochure in PDF format with full details of these Ayara roof-tiles. Example below.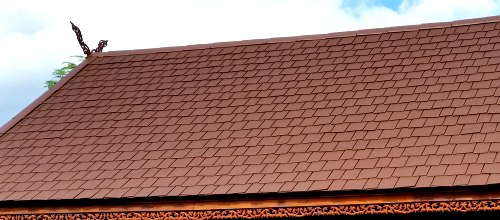 Another 20% of our houses are topped with wooden shingles on top of a layer of sink-sheets to make the roof leak-proof, because after time the shingles could slightly bend due to influence of climat. This kind of roof-topping is centuries old and in old days used for nearly all Thai wooden houses. They underline the authentic character and charm of these teak wooden houses. Example below.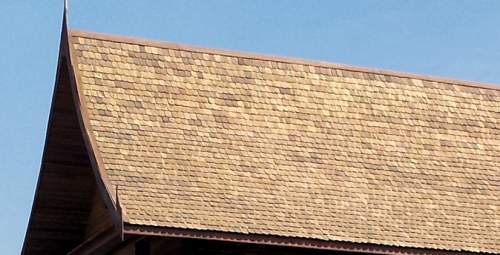 The remaining 10% of our houses are topped with terra cotta color clay shingles or tiles. Because they are more fragile and heavier than the other 2 options the roof-structure has to be firmer and for bigger houses we use a roof-structure of steel. Example below.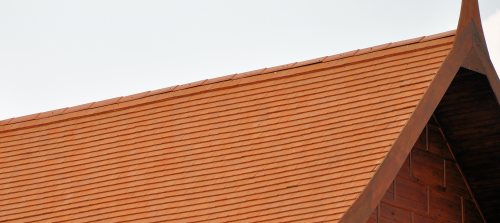 Ok, to be fair there is another options: "corrugated roofing sheets", you know, the ones used for stables at farms, industrial buildings and cheap resort bungalows. With pain in our haerts we sometimes see here in Thailand nice wooden houses with those roofing sheets in various colors and shapes. Yes, sure it's a lot cheaper, but has NOTHING to do with the Traditional Thai Architecture. In our view it destroys the beauty of a teakwooden house. So to us it's not an option for premium ThaiLanna Home houses.
The ThaiLanna Home houses shown in this website are just a selection of models we make. As each house is traditionally hand-made, it can be constructed and altered to virtual any size and style you like.